Instructor Biographies
Aaron Bishara
While at Miami University, Aaron Bishara studied under Dr. William Albin, Dr. Chris Tanner, and master Indian percussionist, Srinivas Krishnan, performing in a wide variety of ensembles such as African Drum & Dance, Steel Drum Band, Percussion Ensemble, Big Band, and various small combos. As a full time musician, he is currently an active performer in local and regional music scenes with acts such as Jared Mahone, The New Basics Brass Band, and The Wet Darlings. You might also see him performing some of your favorite cover songs with the energetic Sharp Circle band. Aaron also maintains a a busy recording schedule, playing both drums and percussion for numerous sessions of all types on a regular basis. Finally, Aaron spends what time he can with the acclaimed Global Rhythms Ensemble from Miami University, where he has been a featured guest artist and soloist over the past five years.
Aaron has had the distinct honor to share stages with such luminaries as Academy Award winner AR Rahman, Grammy Award winners Horacio "El Negro" Hernandez and Glen Velez, Valerie Naranjo, Anandan Sivamani, John Santos, and Eguie Castrillo.
In additon to teaching students at Columbus Pro Percussion, Aaron currently teaches privately as an adjunct instructor at Mount Vernon Nazarene University. For more info on Aaron, please visit his website: http://www.aaronbishara.com
Jim Curlis
Education
Jim majored in percussion at OSU, where he studied with Dr. James Moore and Ron Heller. He has studied under such teachers as Raggs Anderson, Charlie Brown, Gary Chaffee, and Jim Chapin.
Experience
Jim has been a professional musician and teacher for 27 years. He taught drum set on the faculty at OSU for 13 years, and taught on the faculty at Capital University for 3 years. Jim played in the OSU Jazz Ensemble, with whom he won three awards at competitions including "best drums" at the Notre Dame Jazz Festival two years in a row. Jim has played with a wide variety of artists. His credits include the Columbus Symphony pops concert series, Kenley Players Theatre, Tom Battenberg, and local Dixieland jazz group the High Street Stompers. He has also played for the stage shows of: Perry Como, Bob Hope, Red Skeleton, Michelle Legrande, Ed Ames, and Roy Clark. He has played concerts with Tom Scott, Bill Waltrous, Joe Williams, Sonny Stitt, Gary Burton, Howard Roberts, Oliver Nelson, Pepper Adams, Clark Terry, Marvin Stramm, Eddie Daniels, Phil Wilson, Sir Rolland Hanna, Urbie Green, Lou Marini Jr., Phil Woods, and Ernie Wilkins. Jim is currently expanding his musical repertoire of talents into midi computer applications and digital recording.
Teaching Style
Jim's teaching style is straight forward, honest and direct with an emphasis on bringing out the best in students of all ages, from 8 to 80. Because of his diverse experiences, Jim can offer solid fundamentals for the beginning student, new directions for intermediate students, and his special knowledge and expertise to the professional student. Jim teaches all styles of the drum set, as well as rudimental snare drum, concert snare drum, and mallet percussion.
Jim Curlis' website: http://lakehillsound.com/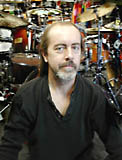 Steve Dodge
Education
Bachelor of Music-Percussion (OSU)
Master of Music-Percussion (OSU)
Experience
Steve has performed with the Columbus Symphony, John Lee Hooker, Rick Ocasek, Moody Blues, Brook Benton, and many more.
Teaching Style
Over thirty years experience teaching all ages, all styles, all instruments, and music theory. Well versed in classical, jazz, rock, blues, country, rudimental studies, Latin, avant-garde, ethnic, etc.
Jeff Peters
Jeffrey Peters comes on board as a well-known performer and veteran of many bands and projects. He can be seen around town playing a variety of styles with such bands as Sirens, The Reaganomics, Paradise Island, and more.
In addition to his busy performance schedule; this privately trained teacher has taught students of all ages for many years. His flexibility and ease in crossing genres allows him to offer a wide range of rhythmic experiences to students of all ages and levels.
Jeff Robert
Jeff brings 30 + years of experience to the teaching staff. He can offer training that encompasses the beginner, the intermediate learner and the advanced players.
His private lessons, marching band & orchestra experience give Jeff the rudimental knowledge to teach the proper foundations of the instrument.
In addition to the above noted items, real world experience playing in a host of bands for 20 + years in the Central Ohio area give Jeff what it takes to prepare you for the things you might run across in a live band situation. Jeff is currently playing with the Columbus based hard rock band Fat Dog.
Do you have a goal to play in your school band or perhaps to learn how to better incorporate rudiments into your grooves & fills on the drums? Maybe you want to learn how to play (or improve) double bass drums or double pedal. Or, just learn to play in the Rock & Roll, Rhythm & Blues, Country or Christian Contemporary styles. If so, Jeff might be the instructor for you.
In addition, if you have found it challenging to locate a drum instructor who can work around your busy schedule, Jeff is available to teach earlier in the day. So, if you work second or third shift, Jeff may be able to accommodate you. Call for details & availability!
Matt Wagner
Education
Matt graduated from OSU in 1982 with a Bachelor of Music Education degree.
Experience
Matt has been playing drums for over 33 years. He has a great deal of experience in rudimental drumming through Drum & Baton Corps and Drum & Bugle Corps competitions. He was the national champion at individual snare drum at BTA at Notre Dame in 1972. He was also honored at the national champion individual timp tom at BTA at Notre Dame the same year. He has four State of Ohio BTA individual snare drum competition championships. Matt placed 8th at Drum Corps International World 82. Matt has been playing professionally for 25 years with such artists as Vince Andrews, Bobby Floyd, Hank Marr, Columbus Jazz Orchestra, Kim Pensyl, Cecil Washington, Joey Calderazzo, Randy Brecker, the Ink Spots, the Four Aces, Arturo Sandeval, Tito Puente, Jack Jones, Jimmy Dorsey Orchestra, the Stars of the Lawrence Welk Show, and his own World Trio Jazz.
Teaching Style
Matt Wagner has been teaching since he was a sophomore in high school. He concentrates on good basics for the beginner, good chops for the intermediate, and good sound grooves and ideas for the advanced student.