Drum Lessons
Instructor Jeff Robert showing a student tips on technique on an electronic drum set.
Columbus Percussion's teaching staff offers lessons on anything in drums and percussion.
Basic Information
Whether you're just starting out in drums or are looking for some inspiration, drum lessons are a great way to learn. The teaching staff at Columbus Percussion is as varied as the students that attend, and will cover anything including drumset, marching, concert, and world drumming.
Accessibility
You'll be sitting down one-on-one with instructors who want to help you succeed. Get the attention you need while attaining your musical goals.
Availability
Lessons are available during business hours, based on teacher openings. Our teaching staff offers lessons once a week for 30 minutes.
Equipment
The only things you'll need to bring to a lesson are your sticks and your lesson book. Columbus Percussion's drum studios come fully equipped with multiple drum sets and stereo equipment, and we also have keyboard instruments and world drums available.
Pricing
Our lessons are affordable for nearly everyone, at $100.00 per month. You pay the instructor directly at the beginning of each month of lessons.
Interested?
Check through our list of instructors on the right, or contact us today at (614) 885-7372 to set up lessons or get more information.
Instructors
Our teaching staff offers a wide variety of specialties and teaching styles. Click on an instructor's name or picture to see a full biography.
Aaron Bishara teaches drumset and world percussion.
Jim Curlis teaches all styles of the drum set, as well as rudimental snare drum, concert snare drum, and mallet percussion.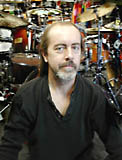 Steve Dodge teaches drumset, and is well versed in classical, jazz, rock, blues, country, rudimental studies, Latin, avant-garde, ethnic, etc.
Jeffs flexibility and ease in crossing genres allows him to offer a wide range of rhythmic experiences to students of all ages and levels.
Jeff Robert teaches drumset, including Rock & Roll, Rhythm & Blues, Country or Christian Contemporary styles.
Matt Wagner concentrates on good basics for the beginner, good chops for the intermediate, and good sound grooves and ideas for the advanced student.